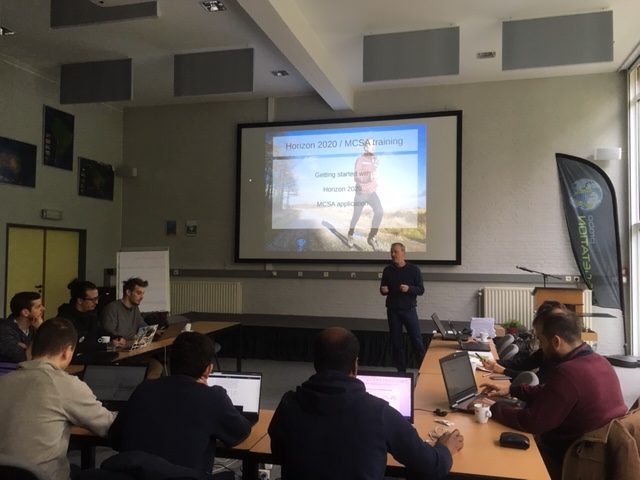 That it is practical training, it is not just a list of recommendations, but you are forced to put yourself in the position of thinking what makes you unique, what would you search in a collaborator… You get to apply what you are learning.

Maria Culman Forero
What I liked a lot is that you made the concept of EU proposal more accessible for us. I can now see myself in the near future start planning/writing for a EU proposal, where before it was not even on my radar.

David Martini
EU funding is complex, and difficult to grasp for beginners. If you are in an organization with embedded knowledge on Horizon 2020 you can get good training on the job. However if you don't have access to a network of people who support you, getting training is a good possibility to learn about writing proposals. The training course we offer can be part of a Summer School, a PhD programme, a company or institute training, or an offer by an EU contact point.
Who is this training for:
For beginners in Horizon 2020, who want to apply for funding.
For researchers, looking to improve their network of project partners.
For project leaders, wanting to increase their project funding.
What is the training about:
How does Horizon 2020 and EU funding work in practice?
How can I find partners?
How to build a consortium?
How can I write an excellent proposal?
Tips and "need to know" for EU funding?
Why should you attend a training session?
Interactive training is different from reading a book.
The training can be tailored to the participants.
Interactive exercises are part of the training.
You'll get a copy of the book "How to write effective EU proposals".
Training Results:
Knowledge on how to apply for Horizon 2020.
Understand EU calls and when to apply (and when to NOT apply).
Understanding of the principles of excellent proposals.
Be able to evaluate calls and partner requests.
Write a one page proposal template and partnership template.
Critically evaluate a consortium and match partners with call requirements.
The Horizon 2020 training course is special because we give every participant a copy of the book "How to write effective EU proposals". This allows participants to quickly reference the most important training contents.