If you write – or plan to write – a proposal for the EU Horizon 2020 programme you need to know how to: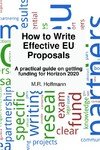 Network and make yourself a natural partner for a proposal.
Apply successful partner search strategies and tactics.
Establish trust and build a consortium.
Write the proposal.
Follow the EU procedure precisely and exactly.
Review and improve your proposal before submission.
Submit and follow up.
Effective EU proposals for Horizon 2020
The Horizon 2020 book describes these steps beyond the technical requirements and focuses on the lesser known – but essential – social and procedural factors. The book shows you how to optimize and streamline your networking and proposal processes to increase the chance of getting EU funding.
The main benefits of the book are:
Actionable knowledge to start networking, getting ideas, forming a
partnership and writing  proposals for Horizon 2020.
A step by step process to increase your chances of funding by
guiding you through the often neglected areas of partner search,
proposal positioning through excellence and urgency, and proposal
writing for impact.
You'll gain confidence to manage your way to EU funding, weed
out bad proposals and join successful networks.
Effective EU proposals for Horizon 2020 require learning. Read the book to help you get started in learning and evaluating other Horizon 2020 knowledge sources.
The chapters of the book are:
1 Introduction
2 Background and Structure of Horizon 2020
3 Getting Started with Horizon 2020
4 Developing Successful Ideas
5 Networking for Horizon 2020
6 How to Find and Evaluate Partners
7 How to Form a Consortium
8 Getting Started with a Proposal
9 How Proposals are Evaluated
10 Writing a Proposal
11 Marketing and Submitting Your Proposal
12 Odds and Ends: Rules, Administration and Support
13 Additional Information Sources
Index
Interested? The book is available through Amazon in the EU.
Horizon 2020 Training
What I liked a lot is that you made the concept of EU proposal more accessible for us. I can now see myself in the near future start planning/writing for a EU proposal, where before it was not even on my radar.

David Martini
Get effective training for EU proposals.
News